Some traders dream of finding a prefect trading robot that will do all the hard work for them. Of course, not all of these dreams come true, but it's quite possible to automate your trading to a certain extent. Expert Advisors (trading robots) will help you with that.
What are Expert Advisors?
An Expert Advisor is a special program that performs actions following trader's instructions in the terminal without their involvement. Since all tasks are performed in the terminal automatically, the program is called a Mechanical Trading System (MTS) or an Expert Advisor.
An operation scheme is very simple: a trader adds an Expert Advisor to a trading terminal connected to a broker's server and specifies all necessary settings. After that, an Advisor starts trading automatically according to a strategy preset by a trader.
How is an Expert Advisor useful?
Expert Advisors provide traders with psychological comfort when they trade on financial markets. They don't have to make decisions every minute, because these decisions are made for them by a robot, which analyzes a huge amount of data. All necessary calculations are already included into the program, that's why a trader does not need to do in-depth technical and fundamental analysis. Trading becomes less stressful and more comfortable – unlike a trader, the program is able to operate 24/7.
How to create an Expert Advisor?
Expert Advisors for MetaTrader 4, the most popular platform, are written in MQL4, a programming language that was developed specifically for working with automated systems. Programmers, who are familiar with this language, will surely have no problems with creating a forex advisor, while ordinary users may have to apply some efforts.
RoboMarkets Pro offers an excellent solution for such cases – a free Trading robots builder, which requires no programming skills to work with. Everything is so simple, clear, and convenient that a trading robot can be created by anyone. The Builder is available in Stock Trader, a multi-asset platform with advanced tools for technical analysis and more than 11,700 trading instruments.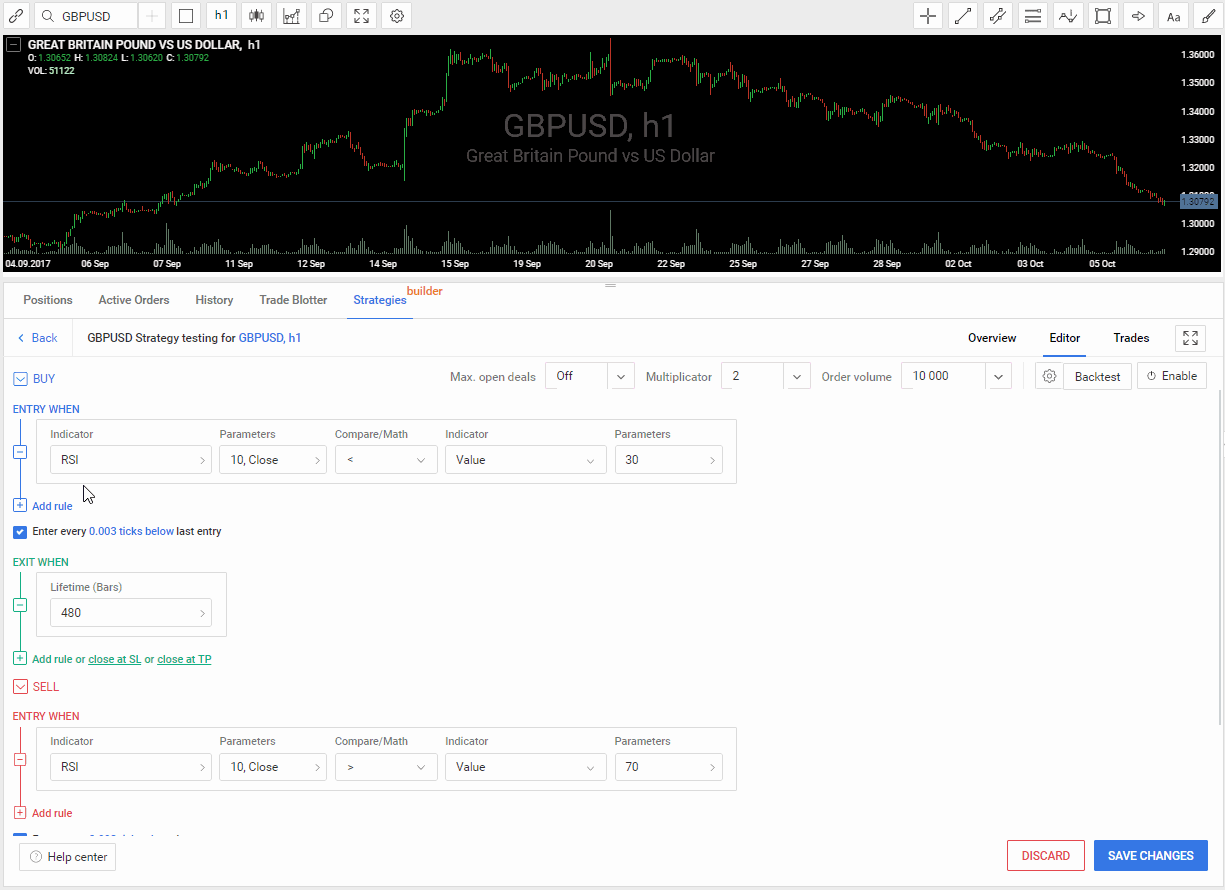 Indicators in Forex Expert Advisors
To make trading more effective, traders can create their own indicators in an Advisor. The key purpose of these indicators is to analyze information and generate trading signals.
Built-in robots and own Forex Expert Advisors
Several built-in Expert Advisors are available in .MetaTrader 4 platform. They have functions of an independent trading system and sound notifications for all events. These EAs were created to demonstrate programming environment capabilities in MT4 platform and are mostly popular with traders with little trading experience.
For "advanced" traders, possibilities and opportunities for creating their own Advisors are almost limitless. Such robots are able to place orders depending on the price and time, automatically open opposite orders, and perform many other operations. In some cases, they can almost completely replace a trader.
How to test Expert Advisors?
Before using an EA in real market conditions, traders have an opportunity to check it on historical data in the terminal. Such testing may be very useful for traders, because it helps to see how effectively their created Advisor works, find out possible errors, and estimate approximate profit and losses. Usually, there is a special window in the terminal for this purpose, where users can also optimize input parameters of Advisors and, thus, increase their performance.
Parting Words For Beginners
In the beginning, traders, who have brief experience in Expert Advisors, may find operations involving trading robots rather difficult, but after several months of automated trading they will be able to create their own Expert Advisor. If you hesitate about trusting your own money to a computer program, you can configure an Advisor to alert you with sound, thus significantly facilitating your work and reducing the time required for performing graphical analysis, expecting signals, and opening and closing positions.
The choice of Expert Advisors in the Internet is pretty wide, but only few of them can really generate profit. If a trader uses all trading robots downloaded from the Internet simultaneously, they may easily lose the money they were allowed to trade. This is the reason why traders should be very careful when creating Expert Advisors. Also, they shouldn't forget the results achieved by an Advisor when trading some particular currency pair may be completely different from those when trading the other pair. That's why experienced traders prefer to use their trading robots for those instruments that they tested them on.